This weekend Front Range CrossFit is hosting the Colorado Open.  We have 6 athletes competing this weekend and it would be great to have as many members of the Surge family out to represent and cheer on our fellow family members.  You can check out the heat times and events at Front Range CrossFit.
Benchmark Friday!!!
DANIEL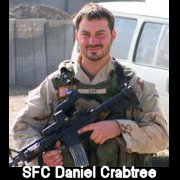 Dedicated to Army Sgt 1st Class Daniel Crabtree who was killed in Al Kut, Iraq on Thursday June 8th 2006.
For Time:
50 Pull-ups
400 meter run
95 pound Thruster, 21 reps
800 meter run
95 pound Thruster, 21 reps
400 meter run
50 Pull-ups
Sorry guys…somehow missing pictures of the board..if you know your results please post to comments or if you have a pic or the board let me know!