Reminder for everyone who is participating the "30 Zone Challenge," your first week of journals are due.  You can bring in a hard copy or email it if you'd like, but they need to be turned in by the end of tomorrow or Saturday.
Benchmark Friday!!!!!
Griff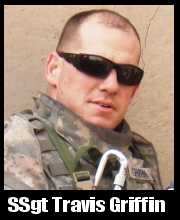 In honor of USAF SSgt Travis L. Griffin, 28, who was killed April 3, 2008 in the Rasheed district of Baghdad by an IED strike to his vehicle. Travis is survived by his son Elijah.
For Time:
800 Meter Run Forwards
400 Meter Run Backwards
800 Meter Run Forwards
400 Meter Run Backwards